LET THE GODDESS GUIDE YOU
The Santuário Lunar Oracle connects you to the Goddess that will help you at this moment.

If you want to know more about the one that appears on your card, please use the link(s) below the message she brings.
What would you like to know?
Find out which Goddess will help you
Read the Goddess's message
MESSAGE
Destroy everything that hurts you. Create everything that does good to everyone!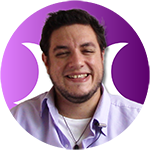 All my work on Santuário Lunar is free and I like this way!
If you enjoy my work, please buy me a coffee and get some more content using the button below! Thanks <3